©2006 PPL Micro Studios/Timm McCoy
David Cassidy St. Paul, MN 7-4-2006
David Cassidy Day - Hours 1 & 2
David Cassidy Day - Hours 3 & 4
David Cassidy Day - Hours 5 & 6
David Cassidy Day - Hours 7 & 8
David Cassidy Day - Hours 9 & 10
David Cassidy Day - Hours 11 & 12
David Cassidy Day - EXTRAS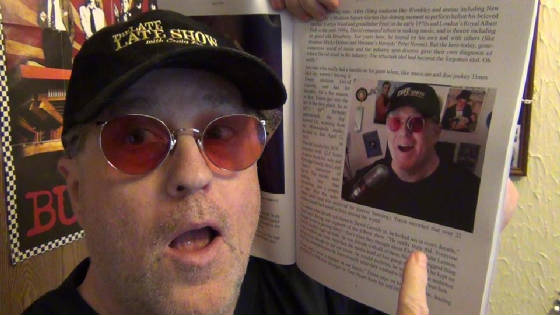 I'M IN THIS BOOK!
There is a brand new book out about David Cassidy by Author, Marlene Habib and I am part of this book.
Read about it and purchase it. Thank you!
Millions around the world feel as if they've just gone nine rounds — physically and emotionally battered while waiting to hear if he'd pull through. Word has been leaking out that David Cassidy is in a Fort Lauderdale, Fla., hospital — the same David Cassidy who for years turned the music world on its head, and otherwise sweet and subdued souls into screaming messes. But this is 2017 — not the 1970s — and the uber-talented singer-actor is fighting for his life, a few short months after bravely announcing his dementia diagnosis and battle. Then, the dreaded news: We lose David Cassidy, the sweet, sexy and loving man with the gleaming shaggy hair who sold out stadiums and arenas, broke music records, and had more fans at one time than Elvis and the Beatles. How did it get to this point? Why couldn't he get that life-saving liver? His last public musical performance, in his birthplace of New York City, was supposed to be his transition into finally taking care of himself and finding true love. But on Nov. 21, 2017, it would be far from the Last Kiss for the man affectionately nicknamed DC — the fans who he KNEW he loved won't let it be. So they seek to right a horrible wrong — on a mission to solidify his legacy in the North American horse breeding and racing hub of Saratoga Springs, N.Y.

David Cassidy Live! Carefree Theater, West Palm Beach, FL September 29, 1991 Recorded, remixed and owned by Timm McCoy & PPL Micro Studios
All material on these webpages, including pictures, video clips, audio clips, podcasts, live events and web designs are are property of Timm McCoy & PPL Micro Studios. The names: "BOO! with Dr. Head","The ikMe Comedy Club", "PODCATS" "PPL Micro Studios", "Toxic Schlock", The Zone with Timm McCoy, Clara The Sheep,"The Zone LIVE!", "ProPsychoLuna" and the phrase: "Don't Limit Yourself To Reality" are Trademarks of PPL Micro Studios. No rebroadcast of any audio or video, including images are permitted without direct written consent from Timm McCoy and PPL Micro Studios. All Rights Reserved. Copyright ©2023